Considered one of the best Kalimbas you can buy, the LingTing LT-K17A is the perfect choice for beginners and a favorite Kalimba amongst professionals.
Features
Solid board Kalimba made with a single piece of high quality African Padauk hardwood.
17 carbon steel keys, highly polished, wear-resistant and rustproof. 
Each note sounds perfectly bright and clear, with long sustain and plays evenly across all keys, including the highest notes.
Pre-tuned in the standard key of C Major.
This genuine LingTing LT-K17A Kalimba comes with extra free gifts – hard case, patch pickup, decorative tassle and a tremolo chain to get that 'trickling stream' sound effect whilst playing.
Bonus Free Gifts with the LingTing LT-K17A Kalimba
In addition to instructions, tuning hammer, thumb guards, note stickers and carry pouch you will also receive these free bonus gifts.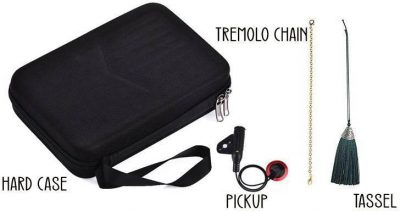 All you need is two thumbs!
Yes, it really is that easy to play the Kalimba. Simple to learn and quick to master, you'll be playing your favorite songs in no time at all. 
Make beautiful music. Play all your favorite songs.
The LingTing LT-K17A Kalimba has such a sweet and pure sound. Like a sweet lullabye on a clear night under a million stars. Like a gently turning music box on a quiet afternoon. Summer rain against a bedroom window.
All genres of songs can be played on Kalimba. From classical pieces to the latest pop music, and everything in between.
Our LingTing LT-K17A is truly one beautiful Kalimba
Professionally handcrafted from a single piece of first-class African Padauk hardwood with 17 high quality carbon steel keys that are wear-resistant and rustproof. Pre-tuned in the standard key of C, each highly polished tine is perfectly placed for optimum timbre and playing comfort.
Premium quality that ensures the highest sense of hearing, visuals and touch.
The sound board is stained to bring out the beautiful wood grain and red hue of the African Padauk wood. The LingTing logo plaque is then attached.
Pick up a Kalimba and start playing!
Come and join this growing musical trend.
Compact and Portable. So you can take it anywhere... on vacation, to the beach, at parties and picnics, or just relax playing at home.
A Perfect Gift to give to a loved one. An ideal educational tool for kids. Likewise, it's great for older people to help keep their brain active.
Everyone loves the Kalimba, fast becoming a favorite musical instrument for all ages, genders and cultures all across the world.
Just a few songs you could play on your LingTing LT-K17A Kalimba...