Our Hluru 21 Key Kalimba is available in four different options of hardwood – Acacia, Maple, Rosewood and Walnut.
The 21 Keys are made of highly polished ore steel and each engraved with it's note.
Pre-tuned in standard C tuning prior to shipping.
The soundbox is hollow with the sound hole placed at the bottom, resulting in high resonance and clean notes.
Kalimba is awesome to play
It's so much fun and it sounds amazing! Super easy to learn, you'll be playing all your favorite songs.
You can make beautiful music and play your favorite songs
This Hluru 21 Key Kalimba is a very natural sounding instrument, with a deep spiritual core that soothes the soul. A purely crisp sound, like a full sized harp, but in an instrument you can hold in two hands.
Every sort of music genre you can imagine can be played on this Kalimba. From pop hits to grunge to classical pieces – and everything in between.
The Hluru 21 Key Kalimba is gorgeous
Professionally handcrafted from a single piece of your choice of hardwood complete with highly machine polished ore steel keys, which are wear-resistant and rustproof. Before shipping we will pre-tune in the standard key of C, so it's ready to play out of the box.
We ensure that we use the highest quality of materials to product an instrument that talks to the highest sense of visuals, hearing and touch.
The Hluru logo is carefully inlaid into the soundbox and then stained to bring out the beautiful wood grain. It is absolutely a stunning piece of art.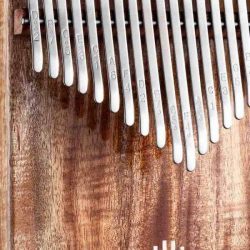 Come pick up a Kalimba and play!
Join the Kalimba movement today.
Compact and Portable. So you can take it wherever you go... on vacation, to the beach, at parties, or just at home relaxing.
A Great Gift Idea for family, friends, children, grandparents, music lovers, and of course that person who is hard to buy for!
Everybody is playing the Kalimba, so come and join this trend that all ages, genders and cultures are loving.
Just a few songs you could play on your Kalimba...