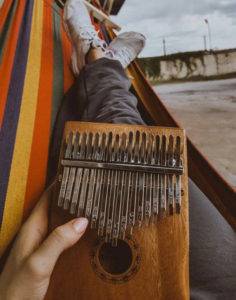 The Kalimba has it's origins 3,000 years ago in West Africa and was made popular in western culture from the 1950's. Read more about the History of the Kalimba.
It's absolutely true that it is one of the easiest instruments to learn. Perfect for all ages, you don't need any musical skills and will learn so quickly you'll be playing your first tunes almost straight away, progressing quickly to your favorite songs.
You can take your Kalimba wherever you go due to its small, portable size. Enjoy your Kalimba on holiday, at the beach, at work or school and gathering. Wow your family and friends with the beautiful, melodious music you create.
Each instrument we sell is handmade out of top quality wood and has durable steel keys that will last a lifetime.
The steel keys have the notes engraved on them, so it's very easy to learn how to play. You'll be quickly playing the songs that you love, even the more advanced melodies. Everything is possible with the Kalimba, for everyone.
Our Kalimbas
All of our Kalimbas come with a full set of free accessories, which contains everything you need to start your musical journey, including:
Instruction manual – How to play and care for your Kalimba
Tuning Hammer
Thumb Guards
Starter Stickers to assist with first learning
Fabric Carry Bag
Your Kalimba will come pre-tuned in C major, which is the standard tuning, and will also come with a tuning hammer so you can easily tweak the tuning.
Note that sometimes the tuning can displace somewhat during shipping, however, it is very easy to adjust the tuning when you receive your Kalimba.
Playing Your Kalimba
It's very easy to tune a Kalimba with the included tuning hammer – lengthen the keys to lower the pitch and shorten them to increase the pitch. Read our full How to Tune guide for all the steps. Tuning instructions are also included in your accessories kit that comes free with every Kalimba we sell.
A concise and easy to follow instructional manual will accompany your new Kalimba. This will help you to get started and learn the basics very quickly. It includes how to play, how to tune and how to care for your instrument.
The accessories kit also includes a set of stickers that you can optionally place on the keys to assist while you are beginning to learn how to play. Once you have quickly mastered playing your Kalimba these stickers can be easily removed.
Go check out our How to Play page to get you started with your Kalimba.
Playing the Kalimba is so much fun